Tornado Shelters
Does your family have a place to seek shelter during a storm, tornado or other severe weather event? Do you have a below ground refuge that can provide your family safety and peace of mind during the climatic tornado season the United States has endured the past several years? Read thru torndosheltersonline.net to learn more about Kentucky's leading Tornado Shelters!
Currently looking for Kentucky dealers! Join the fastest growing Tornado Shelter Network today!

Granger Plastics Company
1600 M.A.D.E. Industrial Dr.
Middletown, OH 45044
Granger Plastics Rotational Molding
(513) 424-1955
Become A Tornado Shelter Dealer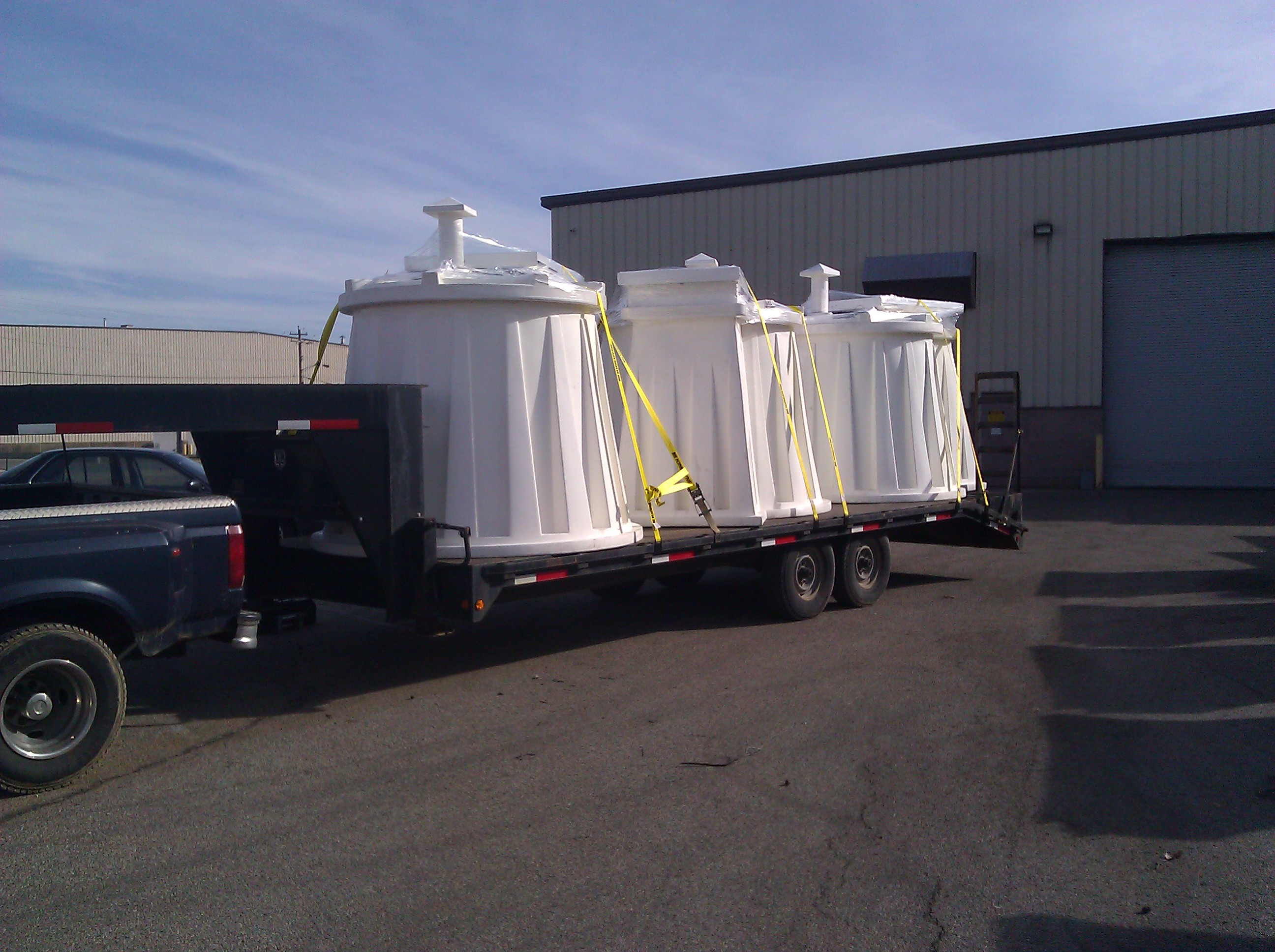 Granger ISS Tornado Shelter Dealer picking up 3 units
Join the fastest growing Tornado Shelter dealership network! With exceptional customer service, a superior quality product and with leading sales & support, see why the Granger Plastics Storm Shelter is the leading Storm Shelter breakthrough in the sector! No other Twister shelter manufacturers offer the features, limited life time warranty, client service and top quality that is supplied by Granger Plastics Company!
Tornado Shelters at Tradeshows!
Granger Plastics continues to experience great success growing our customer base by continuing to exhibit at a wide variety of Tradeshows! Ranging from industry specific tradeshows, defense & safety product shows, home & garden shows, modular housing shows or even state fairs! Granger Plastics continues to educate and grow its customer base by advertising and marketing at Tradeshows all across the United States! Tornado Shelters are a growing segment of business in a number of markets. With the superior quality of the Granger ISS, take your business to the next level by becoming an authorized Granger ISS dealer!
| | |
| --- | --- |
| Granger Tornado Shelter at a Home Show preparing for the show. | Granger ISS Tornado Shelter dealer setting up at the State Fair |
| | |
| --- | --- |
| Granger Tornado Shelter at a Modular Housing Industry Tradeshow | Granger Tornado Shelter at a Home & Garden Show |
| | |
| --- | --- |
| Granger Tornado Shelter at a Home Show prior to opening show | Crowd at the Granger Tornado Shelter at the Home Show! |
Click on State below, You will be directed to another website
Home

|

Tornado Shelters

|

Tornado Shelter Dealers

|

Contact Us
Menu
Shelter Links
Granger Plastics on Linkedin
Granger Plastics on YouTube
Tornado Shelter Dealers
by state
Click on State abbreviation below
About
Granger Plastics is an internationally recognized leading Rotational Molding supplier, based in the USA providing high quality plastic solutions to a wide facet of industries ranging from Aerospace, Defense, Manufacturing, Chemicals, Foods, Safety and so much more.
Learn more about Granger's leading Rotomolding operations.

Related Links
Granger Plastics continues to be America's leading Storm Shelter manufacturer after 20 years of industry leading experience. Granger provides industry leading protection to families all over the world who have purchased the Granger ISS Storm Shelter.

Shelter

Gallery
Shelter Features
Learn more about the industry leading Storm Shelter here.